Today I was going to post about Place Value, but I came across Mrs. Madden's Tune Up the Music Linky Party and I just had to do this.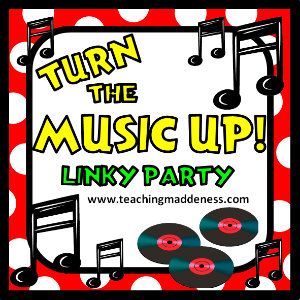 I

just love listening to music in my classroom! Whether it is for just for listening to while working or to teach a concept. I can not sing at all!! So I have tons of music that I have downloaded or have bookmarked on Youtube.
Here are some of my favorites.
Reading Rock Songs. I have purchased the CD's I have the first three.
My kids love acting out this song! You can listen to it online before buying through itunes.
For Earth Day a Michael Jackson Song
Hand washing for kids : Pump

the pump

Music Video
Well that's a few of my ideas that I use for music in the classroom. If you have any music ideas that you like to share in your classroom; be sure to join the Linky Party. I'm always looking for new ideas for music in the classroom.
Wed. I will blog about Number Sense.